Squamish is known as the "Outdoor Recreation Capital of Canada" for a reason. This title, along with close proximity to Vancouver and an almost unlimited number of backcountry activities creates unrivaled conditions for a high incidence of backcountry emergencies. Whether we are tasked with finding lost hikers or rescuing stranded or injured outdoor enthusiasts, members of Squamish Search and Rescue are highly trained in the technical and emergency medical skills required to reach, treat and remove injured or distressed people from the backcountry.
Squamish Search and Rescue is comprised of a diverse group of volunteers who donate countless hours of personal time to train and respond to emergency situations. Our members are highly trained in ground search and rescue techniques and emergency first aid, and many of our members also choose to join specialized disciplines such as Helicopter External Transport Systems (H.E.T.S.), technical rope rescue, swift water rescue and mountain rescue and travel.
In addition to our primary response teams we are fortunate to have volunteers willing to support our team in other ways, including our Prevention Team and all of our logistics and support personnel. These often thankless roles are essential to our team's overall success.
Squamish Search and Rescue's primary response area is imposing. Extending south from Porteau Cove and Deeks Lake to Whistler's southern boundary (Daisy Lake) in the north, it includes the ever popular tourist areas of the Sea to Sky Gondola, Stawamus Chief Provincial Park and Murrin Provincial Park, along with the Cheakamus Canyon, Sky Pilot Mountain and the entire Tantalus mountain range. The team also responds to calls for assistance within the heavily trafficked Garibaldi Provincial Park and Squamish Valley, and will often provide mutual aid support to other Search and Rescue teams within the lower mainland of British Columbia.
The Squamish Search and Rescue Society was founded in 1975 by a local school teacher who recognized the need for a team with the capability of performing backcountry rescues. After reaching out to 8 other friends and mapping a geographical response area, these 8, acting as an extension of the community's Emergency Response Program became what we now know as Squamish Search and Rescue.
Initially, the goal of this small team was to cross-train already skilled climbers as search personnel and create a high angle rescue group. The team expanded in 1987 with several notable additions to the group. These pioneering members would be responsible for the development of many of Squamish Search and Rescue's specialized response teams and helped create many of the foundational courses still taught throughout BC's search and rescue community today.
Until 2010, Search and Rescue services in Squamish were managed by the District of Squamish through their Squamish Emergency Program department. In 2011 the group was officially designated as an independent charitable organization called the Squamish Search and Rescue Society to better reflect the services delivered by the volunteers.
Today, the Squamish Search and Rescue Society has grown to include more than 80 members who respond to over 100 calls each year and donate thousands of hours of their personal time to training. In cooperation with the BC Ambulance Service, Squamish RCMP, Squamish Fire Rescue Services and the BC Coroners Service, Squamish Search and Rescue members are dedicated, highly skilled volunteers who respond to backcountry emergencies, providing critical, lifesaving services at zero cost to lost or injured subjects.
Gallery photos courtesy of Laure Lejeune, Anne Price, Raz Peel, Doug Woods.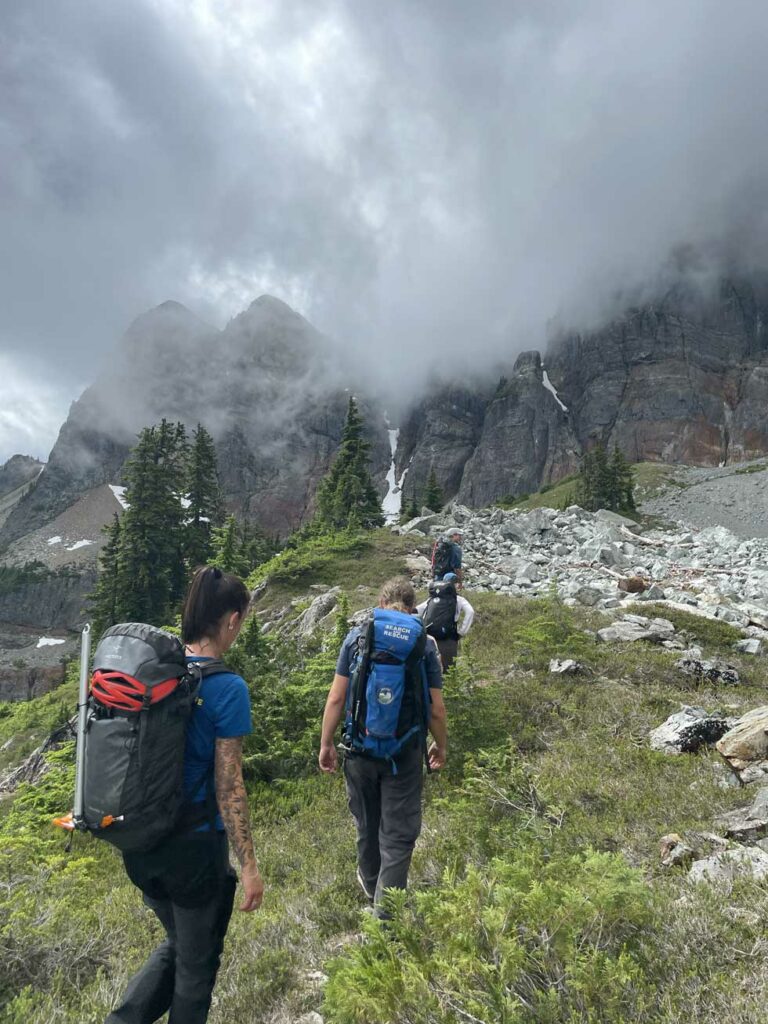 (Photo taken by Anne Price)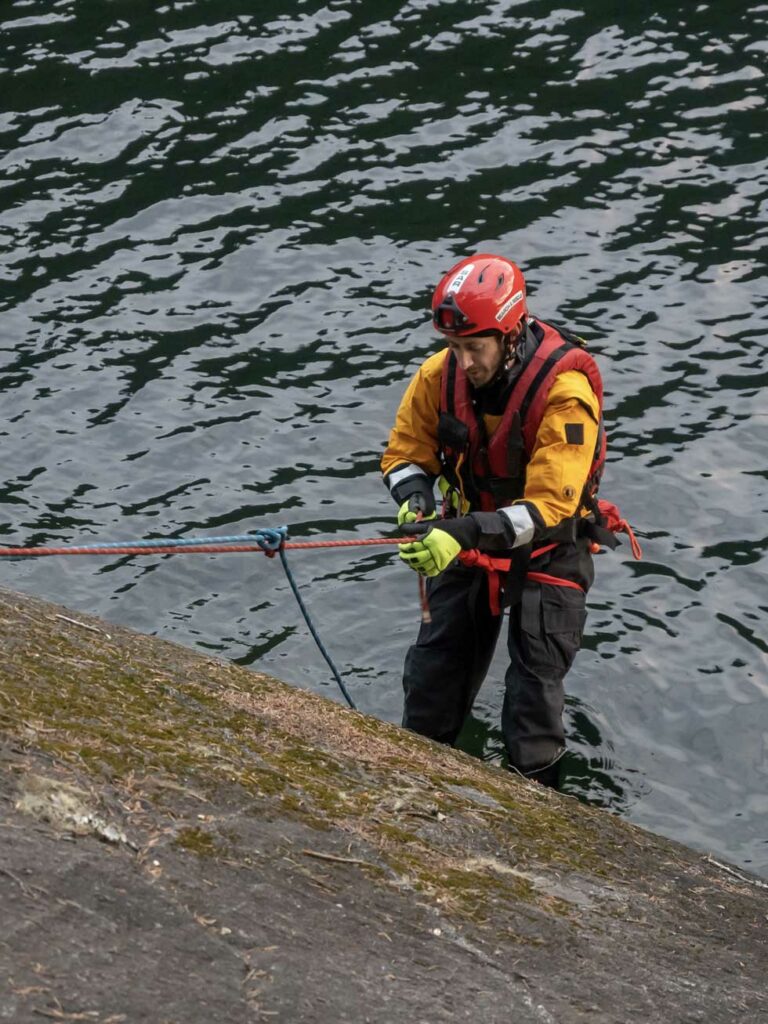 GSAR member in rope water training. (Photo taken by Anne Price)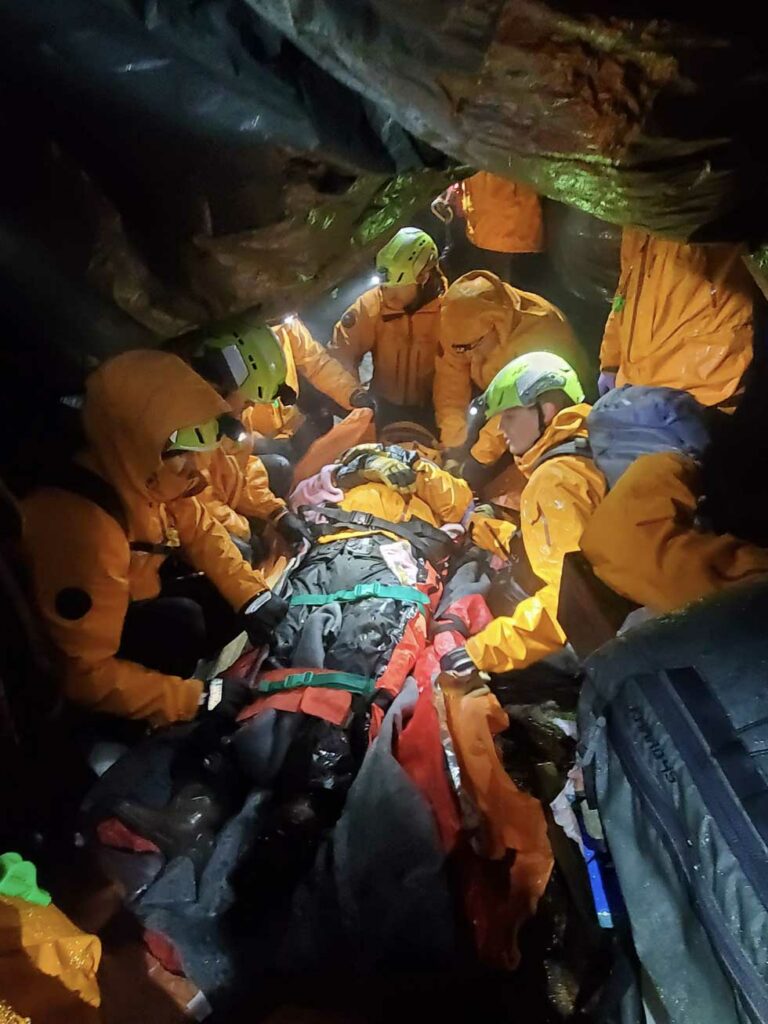 GSAR night training scenario. (Photo taken by Nils Robinson)
When the weather gets colder and the days get shorter the calls often get more serious. The Avalanche Response Team is specially trained to handle emergencies in snowy or icy conditions and is deployed whenever a task requires a response in avalanche terrain.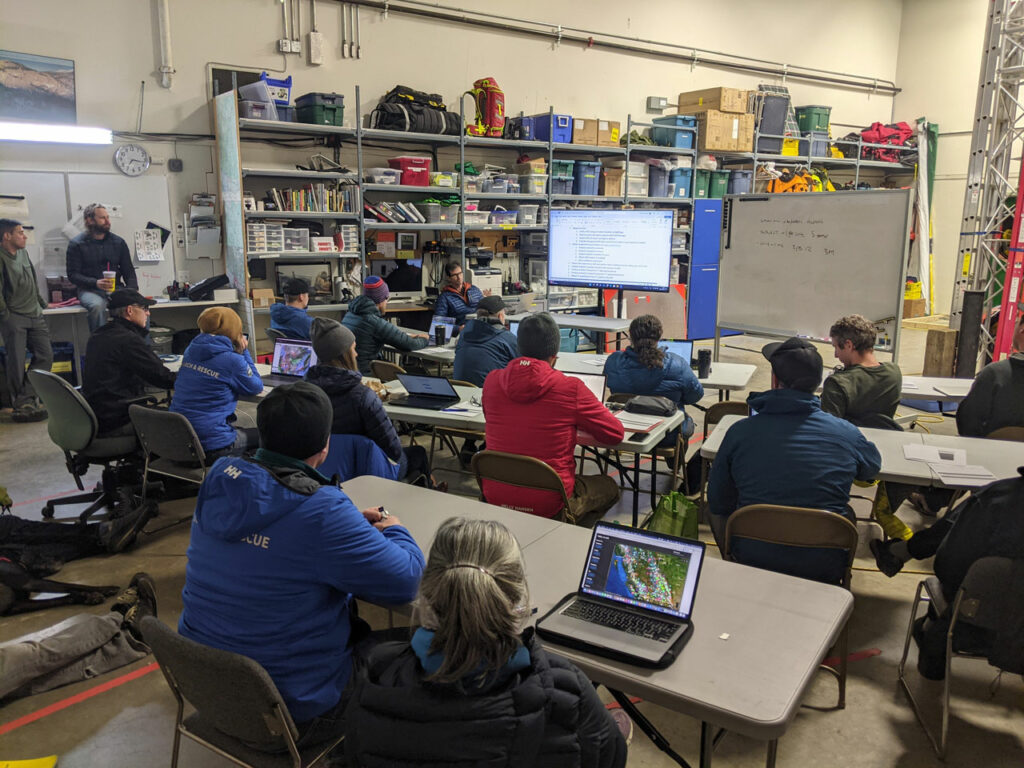 Avalanche indoor learning at the SAR compound. (Photo taken by Laure Lejeune)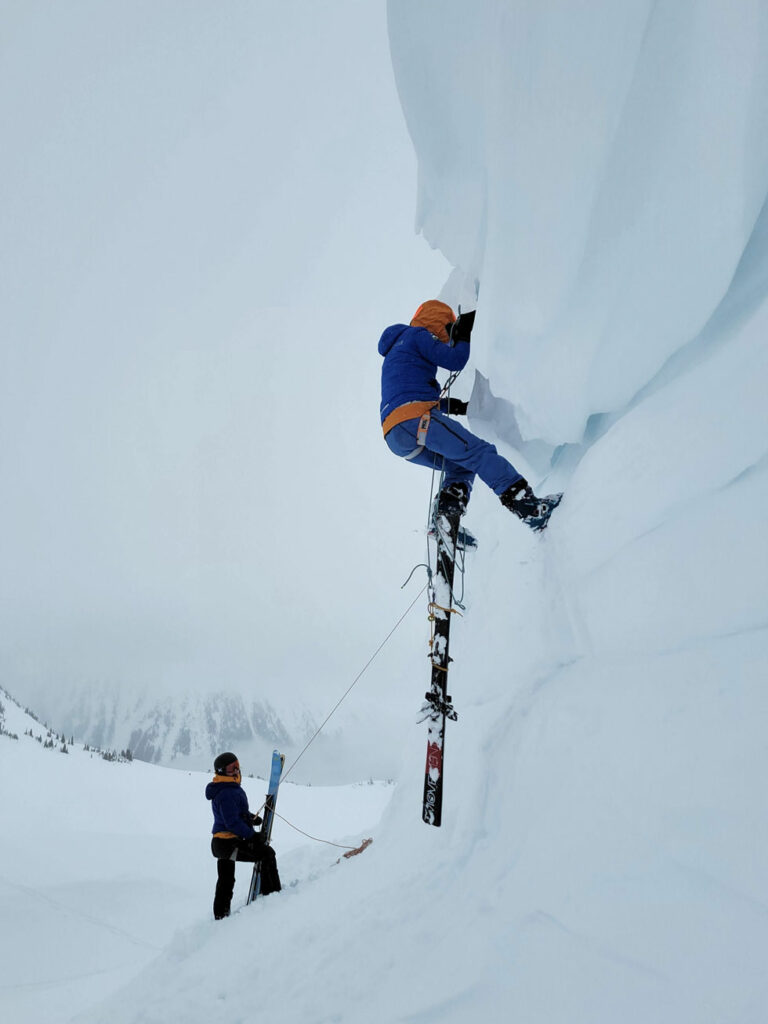 (Photo taken by Laure Lejeune)
(Photo taken by Laure Lejeune)
Our Rope Rescue Team is deployed when a task occurs in steep terrain where the subject can be reached from above. The team is commonly called out for climbing incidents but also to help access kayakers in river canyons, hikers who have gotten off-route, and even vehicles over an embankment.
Gallery photos courtesy of Laure Lejeune, Anne Price, Raz Peel, Doug Woods. 
Our members dedicate hundreds of hours annually to perform land, air and water-based rescues and searches for the Sea to Sky region. We respond 7 days a week, 365 days a year, and we need your support.