Our members dedicate hundreds of hours annually to perform land, air and water-based rescues and searches for the Sea to Sky region. We respond 7 days a week, 365 days a year, and we need your support.
If you have the time to support, we encourage you to apply to join during one of our recruitment sessions.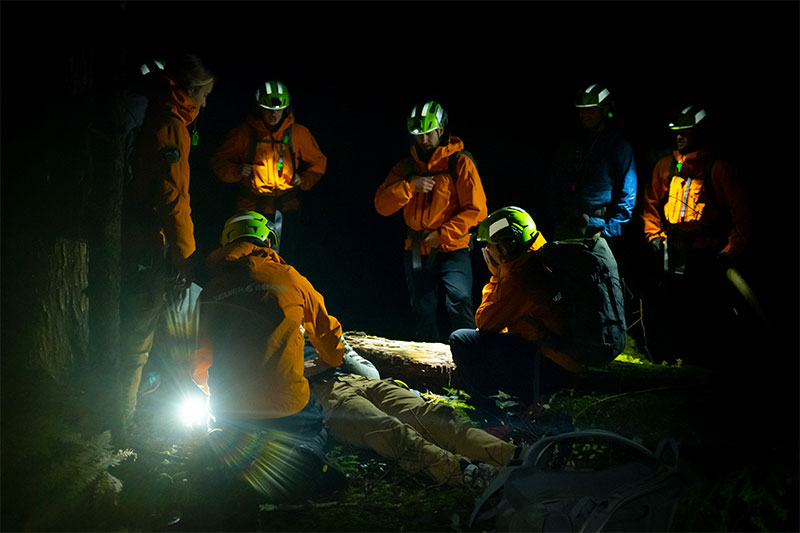 There are two membership categories that prospective members may consider.
You enjoy helping people. No prior SAR experience is needed, but we require ample availability, willingness and the aptitude to work as part of a team.
Prospective members must be a resident of Squamish with excellent wilderness and backcountry travel skills in all seasons and familiarity with the local area. Response members must be physically fit and possess the appropriate basic field equipment required to respond safely for a minimum 24 hour period.
Only a small portion of the hours contributed to SSAR annually include search and rescue operations.
The team has many administrative, governance, logistics, awareness, prevention, planning and communication needs. SSAR occasionally will bring on support members with specific skillsets to meet required demands.
Currently, we have no unmet needs that require support.
Availability, willingness and the aptitude to work as part of a team are some of our expectations.
If you want to be an active response member, you will join the team as a member in training (MIT), you will be required to attend tasks throughout the year as well as 100% of the Ground Search and Rescue (GSAR) course.  The GSAR program is administered by the Justice Institute of BC and provides an introduction to search and rescue operations and core skills used by all search and rescue teams throughout the province.
Throughout the year, new members are evaluated by senior team members in both training and operational environments. Upon successful completion of the GSAR program – and demonstration of commitment to the team – MITs are eligible to be voted in as active members at the subsequent AGM.
Squamish Search and Rescue is a commitment that should not be taken lightly. Many members invest hundreds of hours of volunteer time in any given year. Please consider this carefully and reflect on your ability to dedicate a large portion of your free time to the team.
Tasks and training will take you away from friends, family and work, often at inconvenient times. Tasks (we average 90-110 per year) are completed at any hour of the day or night and can last for hours or days. Many tasks occur during evenings, weekends and holidays. You must be available and prepared to respond at these times.
All of our members are volunteers. There is no pay for training or responding to operations and members are also required to provide all of their own basic personal equipment. Under some circumstances, there may be reimbursement for certain task-related expenses.
Application Procedure
The application process to join the 2023 MIT (members-in-training) program is now closed.
Our application is also distributed via our newsletter and social media channels.
To stay up to date, please follow us on Instagram and Facebook and
subscribe to our newsletter
.
Detailed application information is
HERE
.